Jean Metzinger
Nantes 1883 - Paris 1956


Jean Metzinger was born in Nantes on 25 June 1883, where he also spent his entire youth. He enjoyed a thorough education and attended painting classes under Hypolitte Touront, a well-known portrait painter who taught an academic, conventional style of painting.
Jean Metzinger, however, was interested in the current changes in painting. Jean Metzinger loved the neo-impressionist innovations, the abandonment of shading and mixing colours. When he plucked up courage to send his first oil paintings to Paris the response was so positive that he was soon invited to exhibit three works in a presentation of independent artists at the "Salon des Indépendants".
His immediate success brought about the decision to leave the province and move to Paris where he could benefit from the fertile artistic world. He continued working in a neo-impressionist style, which he developed to mosaic-like colour patterns between 1905 and 1908 - his first artistic peak. These late neo-impressionist paintings with their patches of colour placed accurately one next to the other, already point towards his later Cubist works: they reveal an inclination for construction and a clear structure.
His style became increasingly geometric and his new artistic interpretations are influenced by Braque, Picasso and Gris. Metzinger's works around 1909 finally document a move towards what was later referred to as analytical Cubism, but was initially rejected completely by the critics.
Jean Metzinger documented his theories in his "Comments about Painting" in 1910. He worked together with Albert Gleizes in 1912 with whom he published the theoretic treatise "Du Cubisme" which was soon much discussed.
Jean Metzinger was appointed to teach at the Académie de la Palette, later the Académie Arenius. Numerous exhibitions document the painter's national and international success. During the 1920s Metzinger briefly abandoned Cubism. He lived in Bandol in Provence until 1943 and then returned to Paris where he was given a teaching post for three years at the Académie Frochot in 1950.
Jean Metzinger died on 30 November 1956.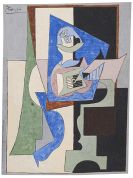 Pablo Picasso
Guéridon, guitare et compotier
277,500 $
Details